The ultimate virtual event platform
With Let's Get Digital your event is virtually more real than ever. With unlimited sessions, users and a branded environment made to measure your hybrid or virtual event will exceed everyone's expectations.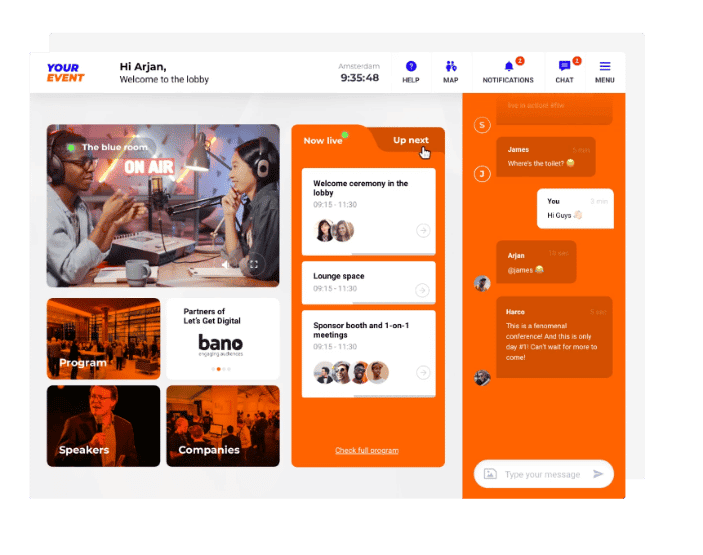 Customize it to fit your brand
Shape the event to suit your needs
Create a virtually real experience
Host on our virtual event platform
One of the biggest questions event organisers (including you!) are asking themselves: should I host my event offline, online or make it hybrid? And what kind of virtual event platform should I use? We believe that a hybrid form is the way to go: it provides more inclusivity (more people can attend), creates new opportunities for your brand to be seen online and is a sustainable solution. Let's Get Digital provides a virtual event platform that makes hosting a hybrid event easy, and creates an amazing experience for the user.
Get digital with our virtual event platform
Hosting a hybrid or online event grants you opportunities that are endless! We've put them to work in our virtual event platform, so you can give your users the best event experience possible. If you're hosting on the virtual event platform by Let's Get Digital, you will get:
A branded lobby just for you!
Let your visitors check in in our lobby, give them their badge and show them around the place that is completely made to fit your brand. Even when entering the event, there's opportunities to customise its colours and featured videos. Make our virtual event platform yours and customise it with your branding.
No more limit to acts or users
We've got plenty of space on our virtual event platform! Space enough to fit the whole Ziggo dome in there – but with more than one stage. Hosting your online or hybrid event with Let's Get Digital means that you never have to worry about the capacity of your virtual venue.
Get the full
Let's get digital experience
See for yourself which features, networking moments and other options are possible, while directly exploring the platform yourself. Are you ready for your first online event experience?
Global brands trusting Let's Get Digital for their events
*Leave your details to sign up for a free online demo event.
Attendees rated the Let's Get Digital demo